A artista plástica brasileira e residente na Suíça há mais de 10 anos, Fabiana de Barros concebeu uma escultura social viva denominada por Fiteiro Cultural. A palavra fiteiro, utilizada principalmente no nordeste do país, significa um espaço de madeira ou alumínio que comercializa produtos informais. Foi com essas premissas que Fabiana concebeu a versão cultural de um fiteiro na busca de "um lugar que seja um não-lugar definido pela comunidade o qual ele foi inserido". Artistas foram convidados o ocupar fiteiros em vários diferentes países tais como Estados Unidos, Cuba, Suíça, Portugal, etc sendo que para "Mostra SESC de Artes" de 2004, Fabiana montou em São Paulo 5 peças. Um delas foi ocupada por mim e Emerson Emol, grafitteiro de Diadema, no projeto que chamamos de 2X2. Nosso fiteiro ficou instalado por 8 dias na Favela Tamarutaca em uma jornada que envolvemos os moradores da região, na sua maioria de crianças e adolescentes, em atividades de vídeo e grafitti.
Fabiana de Barros, a Brazilian contemporary artist and resident of Switzerland for over 10 years, designed a living social sculpture named Fiteiro Cultural. The word fiteiro, used primarily in the northeast of Brazil, means a wooden or metal stand that sells knick-nacks. Based on this, Fabiana conceived the idea of a cultural version of a fiteiro, in search of "a place that is a non-place defined by the comminity into which it is inserted". Artists were invited to occupy fiteiros in a variety of countries, such as the United States, Cuba, Switzerland, Portugal, etc, and for the "Mostra SESC de Artes" in São Paulo of 2004, Fabiana built 5 pieces. One of them was occupied by myself and Emerson Emol, a graffitti artist from Diadema, São Paulo. We named the project "2X2", and our fiteiro was installed in the Tamarutaca shanty town for 8 days, a journey involving residents of the area, mostly children and teens, in video and graffitti activities.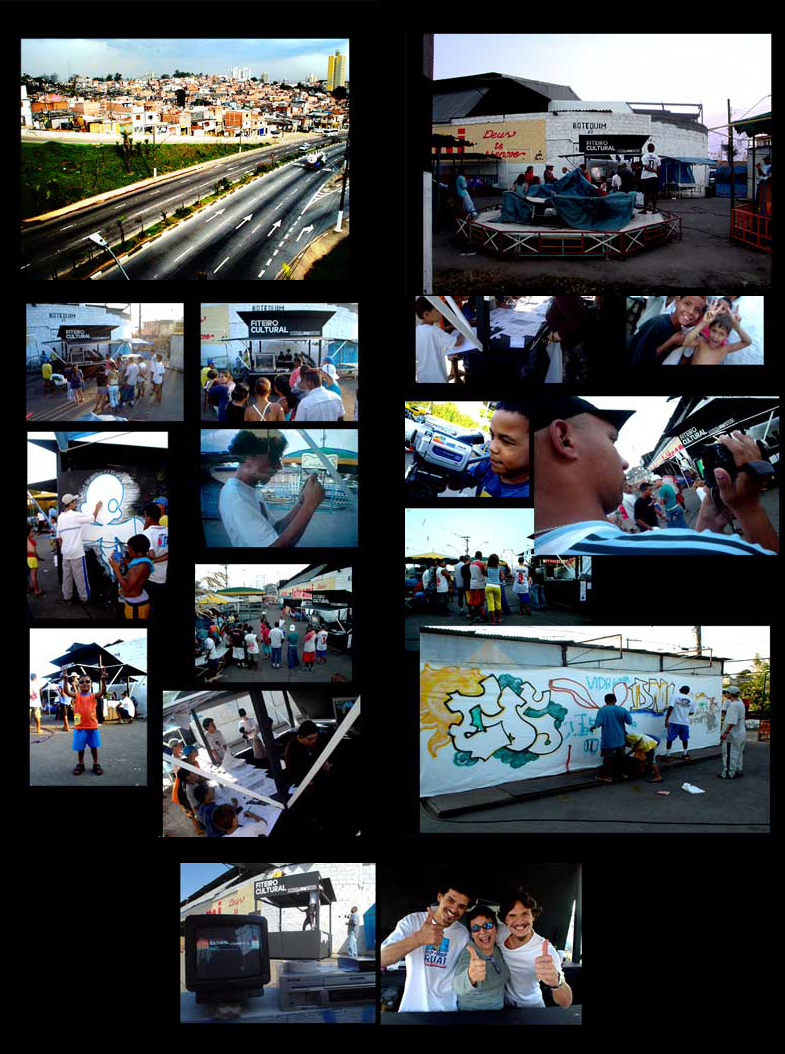 ABERTO – FITEIRO CULTURAL, São Paulo, 2006, Fabiana de Barros.